August is here, and we've been having beautiful weather here in Sacramento! It's been cooler than normal for this time of the year...almost feels like fall. Speaking of fall...it's my favorite time of year! I love the fall weather, the colors, and tastes of the season....not to mention all of the fabulous fall themed folk art. I have a wonderful collection of Halloween and fall themed folk art by several amazing folk artists, and when I unpack it all this year, I will be sure to post pictures for you all to enjoy. Here is a sneak peek of a painting I just finished this week for
PFATT
that will be available on the 10

th

. It's my first painting on canvas in many years, so it was a fun change of pace for me.


I have been enjoying summer's fruits and one of my favorites is watermelon!

Mmmmmm

it's cool and refreshing, and satisfies my sweet tooth! Here is one that my family and I enjoyed this week.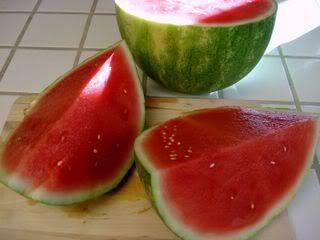 We have also been on a smoothie kick, with all of the wonderful fresh berries this year. I make them up in the blender and they are a tasty way to start the morning. Here is my recipe.


1-2 cups of fresh strawberries, raspberries or a combination cleaned and sliced

1.5 cups of crushed ice

1 cup of low fat milk or orange juice

1 banana

1 cup of raspberry low fat sherbet

a bit of sugar or honey to taste

Blend it all up and enjoy! Warning!!! Not necessarily a low calorie food! :)


I am excited for my good friend
Colleen
whose lovely doll is gracing the current issue of
Art Doll Quarterly
! Please pick up a copy and read about her wonderful dolls. She will also be in the next issue of
Somerset Studio
coming out soon, with more of her amazing dolls. Be on the lookout for that one too!


I will be back soon with more new Halloween folk art, and more charm pendants. In the meantime, please check my
PFATT
offerings this Friday, and enjoy a smoothie or two!